Mike Armayor
Interim Pastor
Mike has served as a pastor for 43 years in various churches, beginning in Georgia, then Pennsylvania, Virginia, New York, and Idaho.
He and his wife, Marilyn, met at college and married soon after graduating, Mike with a B.S. in Biology and minor in Religion followed by a Masters of Divinity degree, and Marilyn with a B.S. in Nursing and minor in Early Childhood Education, after which she earned her degree as a Nurse Anesthetist and currently works at St. Alphonsus Regional Medical Center in Boise, ID. They have two sons, Alan who lives in Spokane, WA as a glass artist and Chase lives in Los Angeles, CA as an actor.
Mike's greatest passion is leading others to know the love of Jesus and His plan of salvation so to experience and share it with others in preparation for Jesus' return.
Mike and Marilyn enjoy visiting family, tennis, sailing, and SCUBA together when able.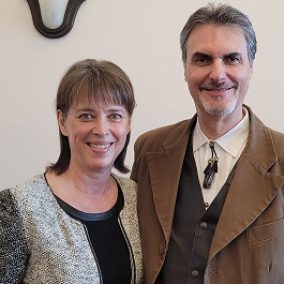 Larry Blackmer
Head Elder
Larry has worked in Adventist education for the past 42 years. He has served as a teacher of biology, chemistry, physics, and math. He has also been a principal, boys' dean, and superintendent, including a short time as Education superintendent in the Idaho Conference. His last position before retiring in 2018 was as a vice president of the North American Division of Seventh-day Adventists, a position he held for 18 years.
Sandra, his wife, has been a conference communication director, an editorial assistant for the Adventist Church's Adult Sabbath School Bible Study Guide, and is currently (the past 16 years) as an assistant editor of the Adventist Review and Adventist World magazines. Larry and Sandra have one daughter, Melissa, who lives in Nampa, Idaho, and operates an animal rescue, Lake Lowell Animal Rescue.
Larry's hobbies include wildlife and nature photography, fly fishing, wildfowl carving, and woodworking.